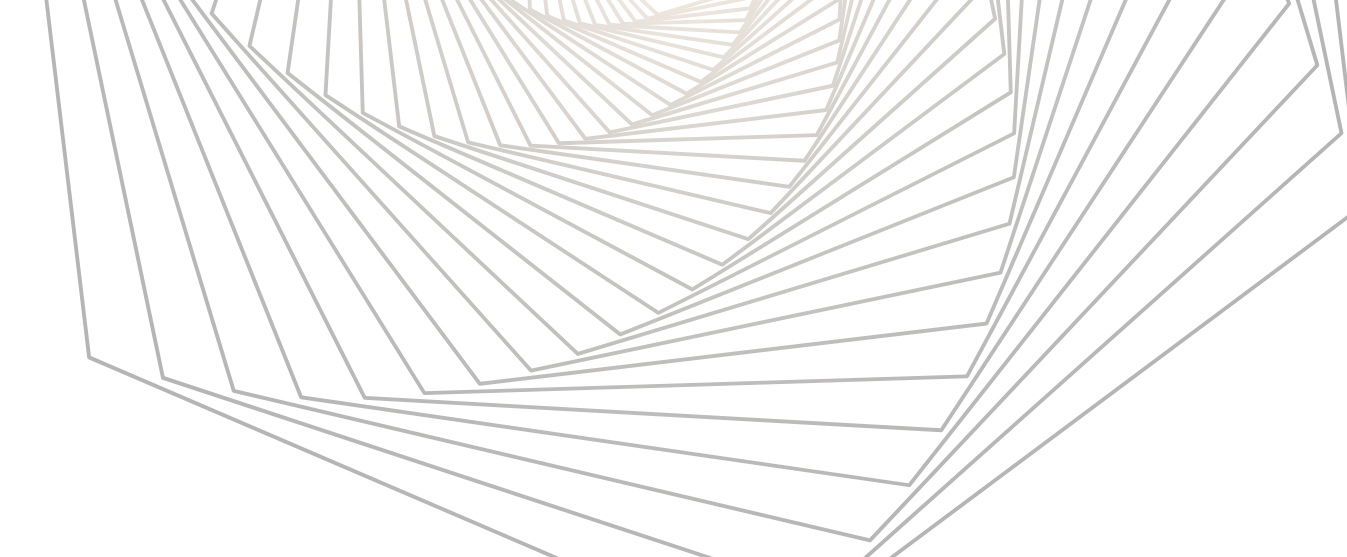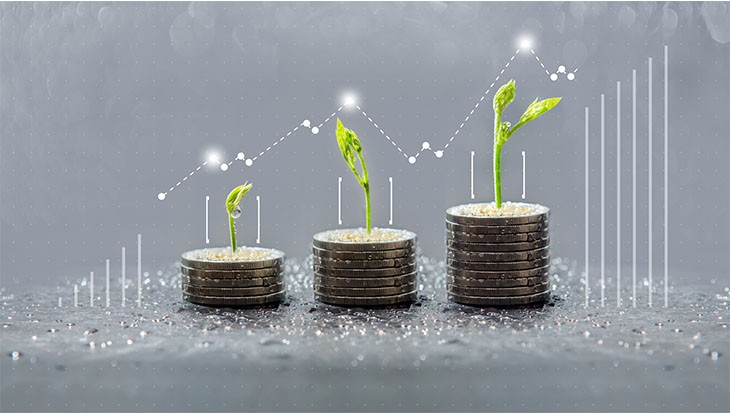 What's the ROI of using Outsourcing Model?
New companies or projects often face major problems with revenue. It is very common not to have sufficient revenue in the first six months of operation to cover operational costs such as: Rents, prime operating expenses such as payroll, and other related costs which lead companies to ask for loans resulting in great losses and eventually causing them to close or stop the business
Outsourcing has become the ideal and effective solution for such companies. Outsourcing allows you to buy services whenever you need without burdening you with fixed monthly operational costs like payroll and other overhead costs.
Where employment is considered one of the major obstacles standing in the way of any project in its initiation phase, there is still a need for every company to hire employees regardless of their specialty or expertise to be able to run its business.
It is not in any way possible that the owner of the company will be able to execute all business tasks by himself, staff payroll is considered the largest overhead cost specifically in the Services sector, and it represents around 80% of company's budget in the Information Technology Sector.
Outsource it and don't do it
Outsourcing is the solution
Outsourcing can be defined as assigning tasks, meaning to assign services or tasks managed by an organization to be executed by a third party.
Outsourcing has certainly become a practical solution and a savior to company owners. Instead of enduring costs related to hiring employees which are not only limited to payroll but also include housing allowances, medical insurance, tickets, etc accompanied by other recruitment costs.
Outsourcing can be done either by:
Hiring labour on temporary basis , it is common to hire per task "Widget System"
The organization contracts and expert or a specialist in a particular field to complete a certain task within a specific time and the relationship ends once the task is completed.
By hiring an independent contractor
The organization could contract a provider of outsourcing services such as Bakkah and the contact ends once the work is delivered, accordingly the company will pay for implementation of the work assigned rather than commit to paying monthly expenses throughout the year.
Governments impact on the Prosperity of outsourcing services
Governments have contributed a lot to promoting for outsourcing services especially in the United States of America and the United Kingdom. Where the direction in these governments was to reduce the number of employees and utilize outsourcing services offered by the private sector to complete certain tasks, which has majorly contributed to reducing government expenditure.
One of the statistics on this regard indicate that the British Government spent more than 88 billion pounds on outsourcing since 2010.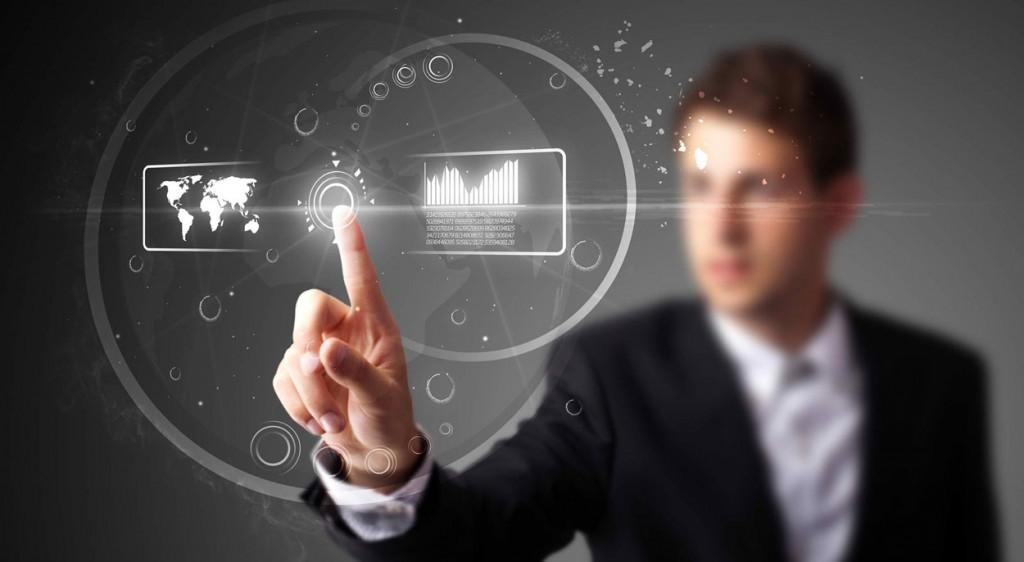 Areas of utilizing outsourcing services
Information technology and Human resources are considered the two most common areas where outsourcing services can be utilized due the high expertise the high cost of hiring employees in those two sectors.
The use of a third-party outsourcing services/BPO companies where it can be utilized in the following services:
Software
Servers
Call Centres
Human resources management
A third party outsourcing services can be utilized to provide a number of services such as:
Provide specialized services in filtering resumes and conducting , conducting interviews on behalf of the company.
It includes preparation of performance evaluation systems, personnel management, promotions, salaries, preparing job descriptions, preparing forms, regulations, policies and procedures, and other services according to the requirements of the organization.
In general it can be outsourced in the following cases:
Skills and expertise needed on un-permanent basis.
For specialities that are not heavily utilized in the organization.
For tasks which the management does not want to perform by itself, either because the activities are not of significance or require experiences that are not available within the organization.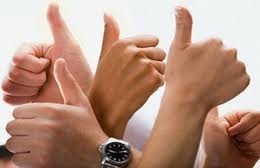 Benefits of outsourcing:
Acquiring frameworks and expert resources that are qualified from all around the world.
A significant reduction in the payroll costs.
Reduction of the workload consequently leading the organization to focus on core business activities and better utilization of internal employees.
Reduction of infrastructure costs such as offices, buildings, equipments, and services.
Reduction of financial obligations related to providing housing, travel compensation, health insurance, pension, etc.
Criteria for taking the outsourcing decision
Baron and Kreps have invented a general rule in the form of a matrix to determine when it is suitable to utilize outsourcing services; the matrix is built on two dimensions:
Strategic importance.
Compatibility between the mission and social factors.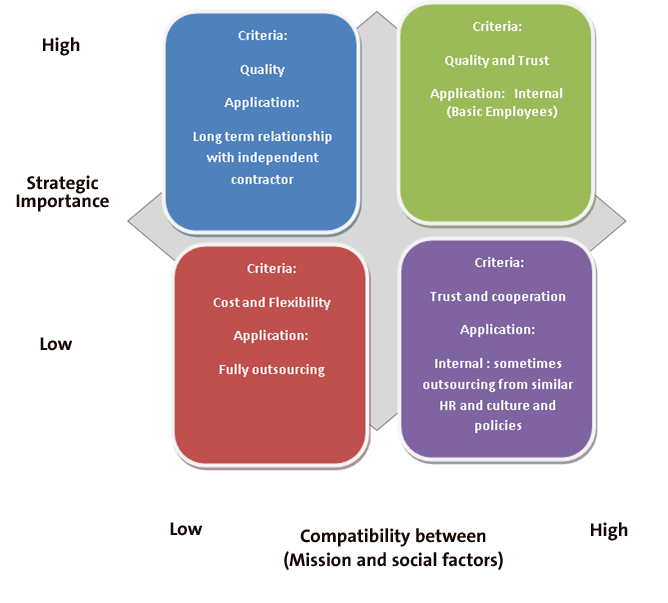 Outsourcing may not be appropriate when:
The task is a core activity critical to strategy or technology.
Task is highly interdependent with core activity due to technology or work design.
Task requires great deal of firm specific human capital or access to proprietary information.
Tasks where the employees work in close proximity to regular, core employees and are similar socially to them
On the other hand, when the task is strategic and requires little compatibility, Baron and Kreps believe that outsourcing is acceptable is the organization is getting an acceptable level of quality from independent contractor and they become partners and may establish a long-term relationship.